Roe v. Wade: What you're saying in response to abortion rights being restricted
On Friday, the United States Supreme Court voted to overturn the landmark Roe v. Wade decision that had been in place for nearly 50 years.
With abortions no longer being viewed as a constitutional right, here's what you're saying about the SCOTUS' decision to overturn Roe v. Wade.
What is Roe v. Wade?
Back in 1969, a 25-year-old single woman challenged criminal abortion laws in Texas. Using the pseudonym "Jane Roe", Norma McCorvey entered a legal battle against Dallas County district attorney Henry Wade - which is why the decision is known as Roe v. Wade.
McCorvey was pregnant at the time she filed her case, and although she had claimed that the pregnancy was the result of being raped, her case was denied and she was forced to give birth to the child.
After appealing the decision, the case was heard in the US Supreme Court, alongside that of 20-year-old Sandra Bensing from Georgia.
Members of the US Supreme Court who would later decide in the Roe vs. Wade abortion case. Credit: Alpha Historica / Alamy
Both cases argued that abortion laws in Texas and Georgia infringed a woman's right to privacy and therefore went against the United States Constitution. Court justices voted 7-2 that the governments had no power to outlaw abortions and, therefore, abortions became a constitutional right.
A person was permitted to terminate their pregnancy within the first three months, with further government regulations being implemented in the second trimester. In the third trimester, as the fetus developed to the point where it could survive outside of the womb, further state restrictions were put in place.
Friday, June 24, 2022
On June 24, the US Supreme Court voted to overturn the landmark 1973 ruling in a 5-4 decision.
The decision came as the Supreme Court also voted 6-3 in favor of Mississippi's ban on abortions after 15 weeks in the case of Dobbs v. Jackson Women's Health Organization.
Justices Clarence Thomas, Samuel A. Alito Jr., Neil M. Gorsuch, Brett M. Kavanaugh, and Amy Coney Barrett voted in favor of overturning Roe v. Wade.
Justice Samuel Alito wrote in his majority opinion on Friday: "Roe was egregiously wrong from the start. Its reasoning was exceptionally weak, and the decision has had damaging consequences. And far from bringing about a national settlement of the abortion issue, Roe and Casey have enflamed debate and deepened division."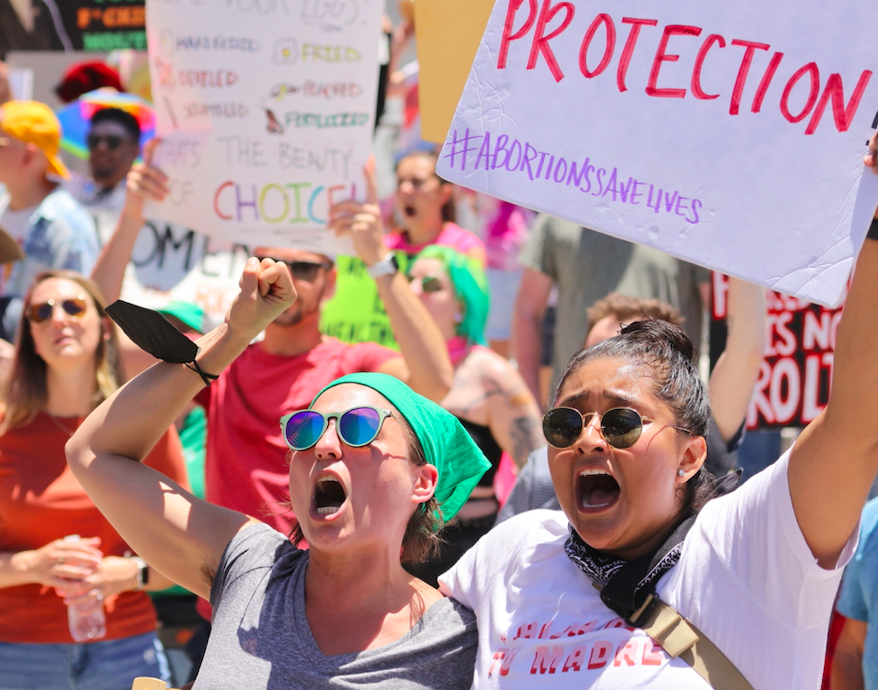 Credit: Xinhua / Alamy
The three justices who voted in favor of Roe v. Wade were Stephen G. Breyer, Sonia Sotomayor, Elena Kagan, and Justice John G. Roberts, Jr.
Justice Roberts - who voted to uphold Mississippi's abortion law but not overturn Roe v. Wade, wrote on Friday: "Surely we should adhere closely to principles of judicial restraint here, where the broader path the Court chooses entails repudiating a constitutional right we have not only previously recognized, but also expressly reaffirmed applying the doctrine of stare decisis."
The Fallout
As reported by CNBC News, abortion bans in Arkansas, Kentucky, Louisiana, Missouri, Oklahoma, South Dakota, Utah, and Alabama went into effect following Friday's overturning of Roe v. Wade. Additionally, Idaho, Tennessee, and Texas will implement abortion bans in 30 days.
In these states, it is now a felony to perform an abortion. They do not make exceptions for rape or incest.
On the contrary, governors of California, Oregon, and Washington have vowed to expand abortion access and protect anybody who comes to their states in order to terminate a pregnancy.
Pro-choice and pro-life activists come face-to-face outside of the US Supreme Court. Credit: Newscom / Alamy
The overturning of Roe v. Wade has also resulted in protests erupting across the country and even in major cities across the world.
CNN reports that Phoenix police used tear gas in order to disperse crowds of pro-choice supporters on Friday. That same night, 10 people were arrested in Eugene, Oregon, in response to the ruling. Two abortion rights supporters were also arrested on Saturday after throwing paint near the US Supreme Court.
Many polls also appear to show that the majority of US citizens believe the overturning of Roe v. Wade was a mistake.
Axios reports that a new CBS News/YouGov reaction poll shows that 59% of Americans disapprove for the ruling, with 52% of those polled calling it a "step backward" for the United States.
What are you saying?
Prior to the SCOTUS' overturning of Roe v. Wade on Friday, Four Nine took to the streets to see what people thought about the possibility of abortion laws being restricted in America.
"We have to stay hopeful and we have to stay fighting," one person named Whitney told us. "If they come for one right, they're going to come for them all - and we should know that from history."
Whitney also asked pro-choice supporters to reach out to people who have a different point of view, saying: "You know somebody who has had an abortion. You love somebody who has had an abortion. It is incredibly common. And if you don't know somebody who has had an abortion, you have loved somebody who has had a miscarriage. [...] Let somebody make that decision with their doctor and not with you or a judge or anyone else."
Valerie told Four Nine that if Roe v. Wade is overturned, men should be forced to undergo vasectomies, saying: "If we're going to ban one, it needs to be equal, right? We've got to balance it out - both sides have to suffer.
Additionally, Shirley tells Four Nine: "You should have a baby when you feel ready and prepared, with the right person. [...] If it's kinda forced on you, it's going to impact the child's life and it's going to impact your life. It's just not a good situation."
Describing themselves as "an obvious pro-choice person", Mikayla told Four Nine that the Roe v. Wade news will "invigorate" more people to get active in the conversation around abortion rights.
Mikayla also points out that abortion access has not been "equal across the board" for Black and Brown Americans, but hopes that the more people who are talking about the issue will result in action for the better.
"It's scary to imagine a world where we are now responsible for a child that we can't support or that we don't want to support," Julia tells Four Nine. "It's going to put a mother or guardian in a position that could ruin their life or ruin a child's life."
What are your thoughts on the Roe v. Wade developments? Let us know in the comments section.
Featured image credit: Eleventh Hour Photography / Alamy